Pilates for Beginner's
January 4 @ 6:00 pm

-

7:00 pm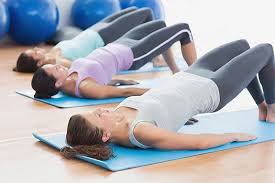 Wednesday 6.15pm to 7.15pm (weekly)
From 4th January 2023
With Anne Bland
As a beginner in Pilates, it is important that you start at a beginner level.
This class will teach you the foundations of good technique to allow you to progress to a higher level.
During this class you will learn how to set your spine into a neutral position, you will work in various positions to challenge your strength and control, you will learn to properly activate the deep abdominal muscles and incorporate the breathing technique that is important for the activation of the core muscles.
You will learn to set foundations to create strength, control and stability throughout the whole body. Taking the practice off the mat, it can assist with better overall functioning of the body, on a daily basis.
At a beginner level it is usually suitable for any fitness level.
If you are new to the Yoga-Lounge, take advantage of The Intro Offer for New Students; 4 classes for £36.